What this post is about
The modern customer wants the option of finding information independently
Identify your customers' pain points and uncertainties
Pick different formats that align with your strategy and offer different angles
These can includes written or video formats, general or technical content, etc.
Have you been there? You need information from a service provider – but instead of calling (and risking that you might be holding the line for the rest of your life) or typing out a lengthy email, you'd rather just find the answer yourself and continue with your day.
If so, you're like most modern customers, who prefer self-service options and actually consider them part of great customer service. So what can you do to offer them exactly what they're looking for?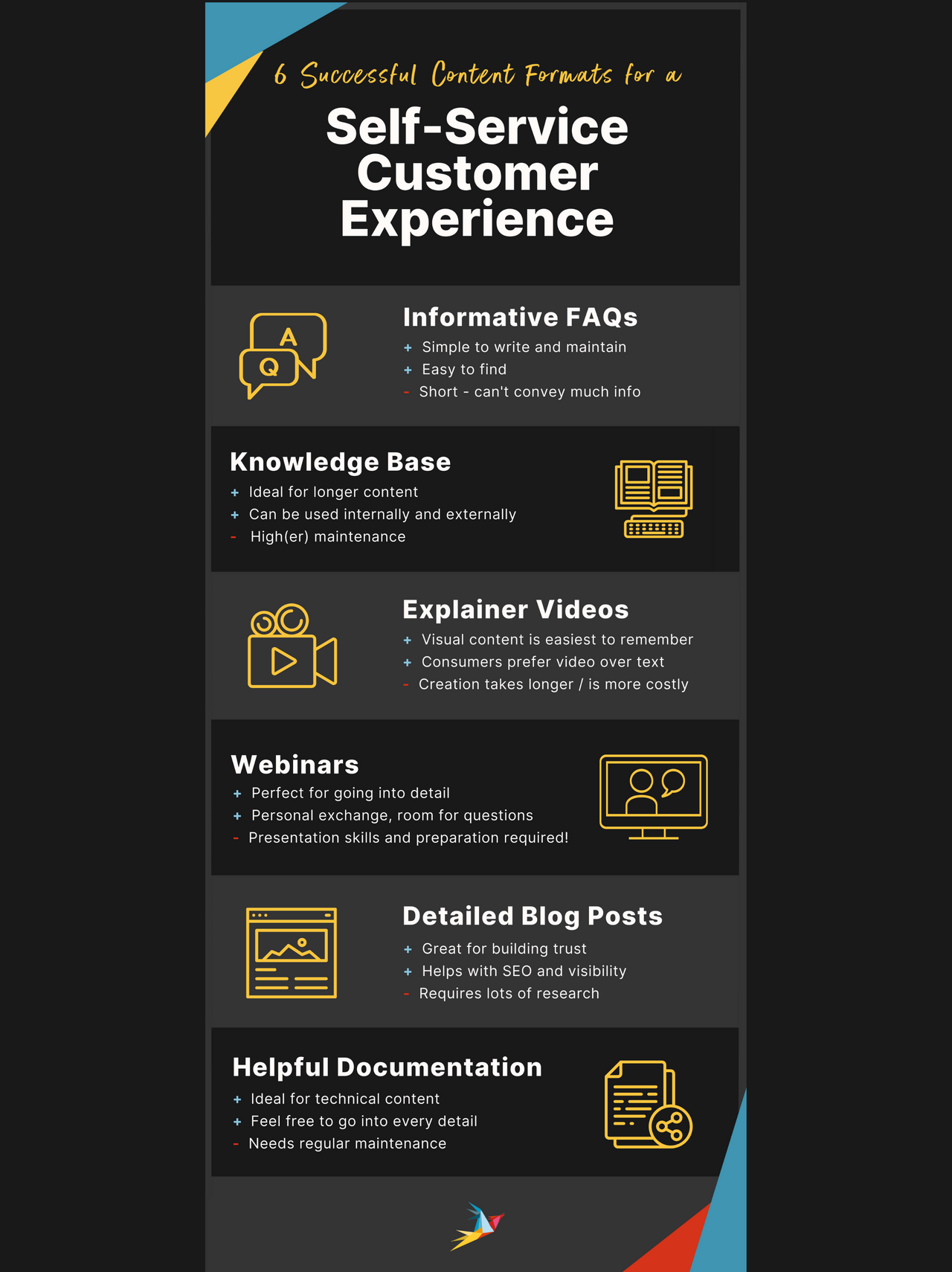 Understand your customers' needs
Before anything, ensure that you know exactly what your customers are looking for. Scrolling through heaps of obvious information without finding the answer you need is a waste of time and makes for a very frustrating customer experience.
Instead of assuming you know what your customers need, make sure you really do. How? It's easy: Listen to them! Take note of the questions that arise frequently and get your Sales, Support, and Marketing teams to work hand in hand.
Sales and Support are closest to your prospects as well as your existing customers. They answer their questions every day – and understand uncertainties and pain points like no one else. Together with Marketing, they can come up with the perfect content concept
It is then up to Marketing to determine the best content formats for your self-service customer experience. This includes monitoring and analyzing the performance of the individual pieces and adjusting the content.
If you are struggling to come up with topics and questions, why not involve your customers from the get-go? Surveys are the perfect way to find out what they would have liked to know at an earlier stage, or what they are still missing today. You can send them out via email, include them in your webinars or training sessions, or ask directly when speaking to a customer. If you find that they are hesitant to spend the time to answer, a little incentive (e.g. 10% off the next order) or a different format (a Twitter poll is much easier to complete while scrolling through the feed) should do the trick.
Once you know what questions you want to take a closer look at, it's time to find the ideal format for each. We've collected some suggestions for different content formats that offer your customers a great selection of self-service customer experience options.